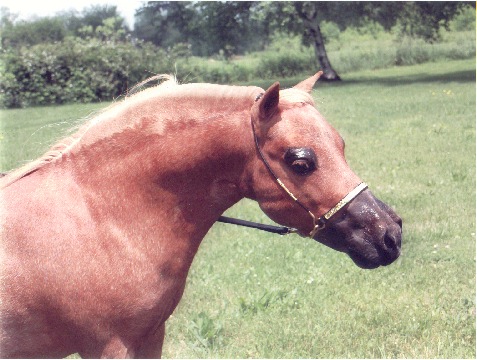 Tradition's sire, "SPUNKY MS", is one of the best known sires today.  "Spunky" is creating a dynasty of his own siring the 1994 AMHA National Grand Champion Junior Stallion and Mare, "Britt-Helm Grande Illusion", and "Britt-Helm Grande Revue".  He has also sired the 1995 AMHA National Champion Yearling Stallion, "Britt-Helm Grande Destiny", just to name a few.  However, the greatest achievement of Spunky's get may be winning the 1996 AMHA National Grand Champion Get of Sire Award, one of the most prominent demonstrations of his ability as a great sire.

Tradition is a 29-1/2" beautiful red roan and a
direct
SON of "Spunky MS" and displays the highest quality available today.  His first foals, "Jones' Grande Nebraska Dawn", "Jones' Grande Creation", Jones' Blue Boy's Grande Animation" and  the newest Tradition foals have already shown their protential in the show ring proving Tradition's faculty as an outstanding sire. 
"BRITT HELM GRANDE TRADITION"

29.5" son of "SPUNKY MS"

AMHA:  A57925

AMHR:  83263A

Tradition has an exceptionally gentle personality and disposition and passes this along to his foals.  Tradition has visited our local schools on a variety of occasions and has loved every bit of the attention he's been given by the children.

Tradition's showring accomplishments include:

Multiple Grand Championships

Supreme Halter Horse

Hi Point Awards....

and a multitude of first place ribbons for Amateur Stallion and Solid Color Classes.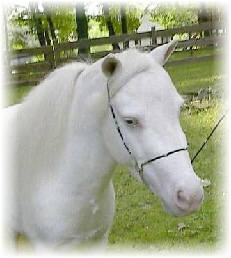 "MISSION CREEK BUCKS SNOWY LEGEND"

"Snow"

AMHA #A98733

AMHR #104000A

30.5", Snowy is a beautiful well-balanced, blue-eyed, cremello stallion sired by

Little Kings Starbuck, a buckskin son of the well known BUCKEROO..

This page was last updated: August 16, 2012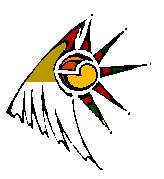 RIVENDELLS  RAISIN THE BAR

"Zip"

Foaled:  4/2/07

28.75"

AMHA #178465    AMHR # 281898T   


Zip is a tiny, refined colt with lots of spark!  He has
TWO
crystal blue eyes and a loooong neck!  He is well-balanced and very correct.  He has been lab tested
homozygous for the tobiano gene
and
homozygous black
. 

Zip's first foals are arriving and they are COLORFUL!  We have been very  pleased with the foals he has produced so far.  Color, conformation, beautiful.

Zip is royally bred, being sired by 25.5" homozygous buckskin pinto, Silver Meadows Raisin Cane, who is a King Tiger grandson and carries lines of Del Tera and Komoko. Raisin Cane has also proven himself in the halter showring as Grand Champion Senior Stallion!

Zip's dam, Cascades Little Darlin, a black pinto, 32", crosses TWO TIMES to Gold Melody Boy and also crosses to Roan Ranger, Boones Little Apache, Dippers Duffy and Sids Rebel on her sire's side.  On her dam's side, Little Darlin is Orion Light VanHuttenest and Bond Dynamo.

Both of Zip's parents are owned by
Rivendell Miniature Horses
JONES MAJESTIC ELIJAH BLUE

"Elijah"

AMHA #A156363

AMHR # 255130A

Elijah is an awesome stallion who's got it all - looks, pedigree and potential!  He is sired by the great AF Black Majesty who has sired many gorgeous foals for Jones' Mini-Whinnies and is now siring foals in Australia.

Elijah's dam is a beautiful palomino mare who has three crosses to the immortal Flying W Farms Little Blue Boy.  Elijah is the only full sibling to the tiny filly, Jones' Majestic De Ja Blue, who has won multiple AMHA World Champion Top Ten and Eastern Regionals Championships including unanimously winning the Regional Championship in Liberty!

Foals sired by Elijah will be arriving soon!!!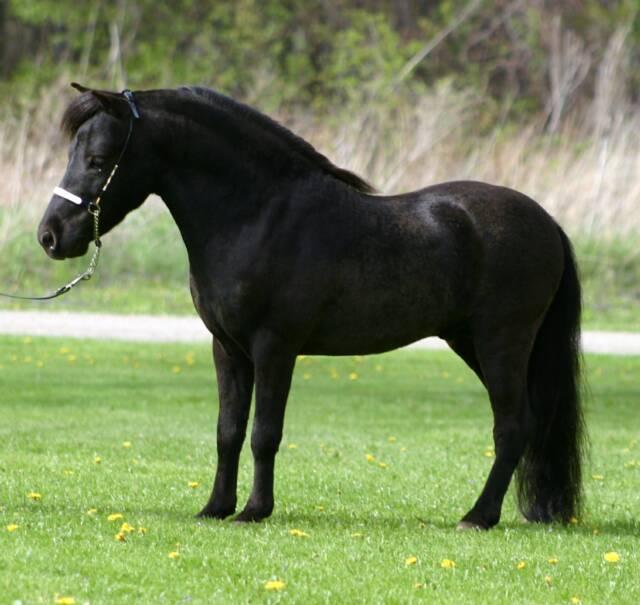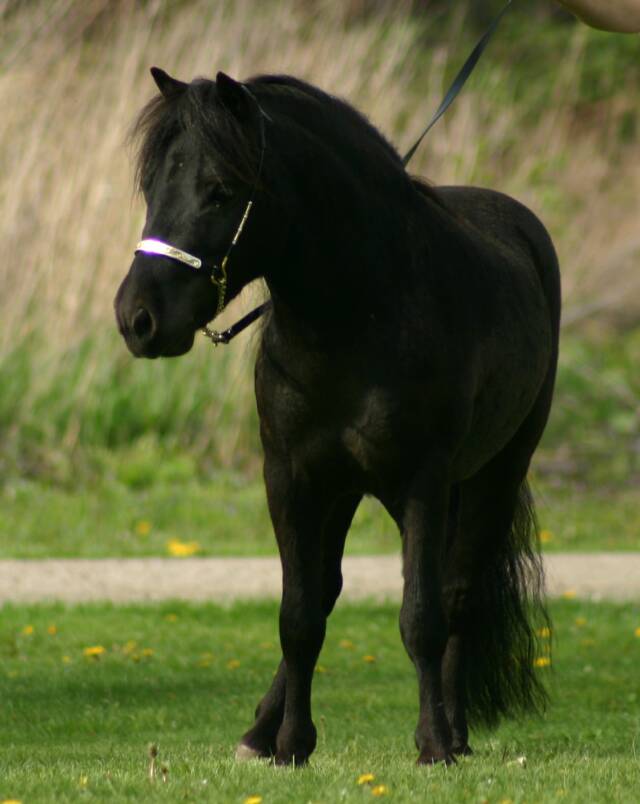 Our beloved Tradition passed away on September 9, 2009.  We lost one of the best.  He was a true "champion" in our hearts.  Tradition was truly one of a kind and he is deeply missed.

"Not gone....just waiting patiently at the end of the trail."